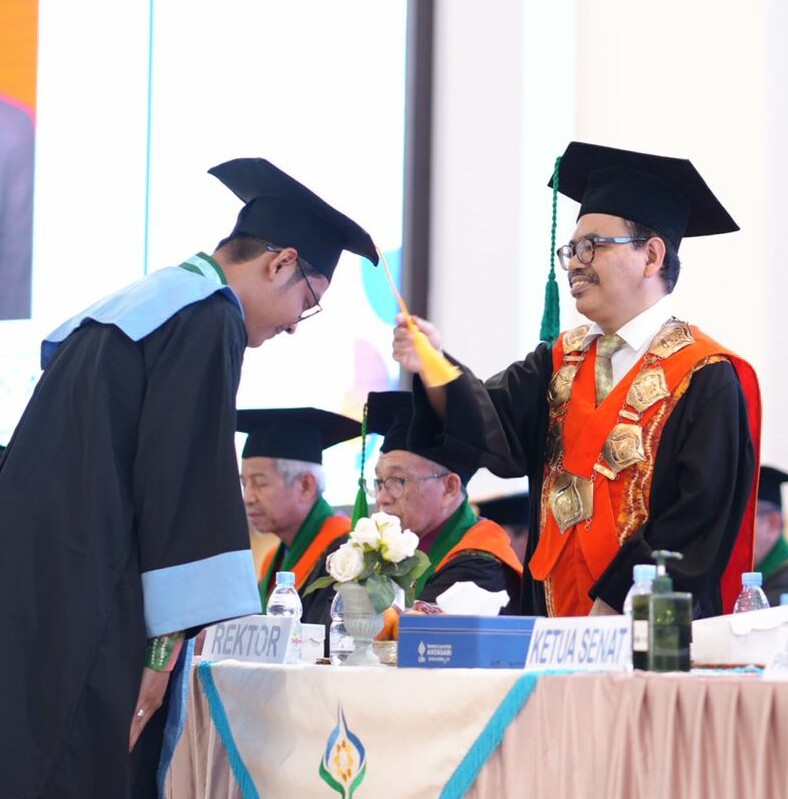 Surprise at the 76th Graduation Ceremony: The Road to Campus 2 is Now Paved
BANJARBARU – In a surprising turn of events, participants and guests attending the 76th Bachelor's and 46th Master's Degree Graduation Ceremony were greeted with a nice surprise—a newly paved Pandarapan Road. Previously, motorcyclists traveling to Campus 2 would often wear masks to protect themselves from dusty roads, but now they can enjoy a smooth and dust-free journey.
This asphalt road had long been desired by the students, as it was frequently muddy during rainy weather. Finally, their wish has come true, and everyone may now experience its natural beauty together.
"We would like to extend our gratitude to our friends, particularly Mr. Sagir, the Vice Rector II, for his diligent efforts in liaising with the Public Works and Spatial Planning Agency of Banjarbaru City to successfully complete the road construction. It is with immense gratitude that we announce its completion, allowing everyone to benefit from it," stated Rector Prof. Dr. H. Mujiburrahman, M.A., during his address at the Multipurpose Building on Wednesday (21/06/2023).
As an alumnus of Al-Falah Islamic Boarding School, he further emphasized the ongoing development projects aimed at enhancing the learning environment in the new buildings of UIN Antasari situated in the Guntung Manggis area. These projects include the plans to asphalt the remaining roads within the campus, construct fences, and receive assistance from the Regent of Balangan for the establishment of two dormitories and a meeting hall.
"In addition, we have established comprehensive plans for future development within this expansive area of over 70 hectares, in collaboration with a reputable company known as Patron. These plans encompass various aspects, including the establishment of communal dining areas, designated locations for tree planting, sports facilities such as football fields, and several other elements," explained the Rector.
Simultaneously, alongside these vigorous development efforts, the Rector emphasized the importance of a focused human resource development program, in line with UIN Antasari's vision of producing individuals who possess both excellence and ethical values. The term "Excellence" is explained by the Rector through four pillars of philosophical knowledge, including the integration of modern sciences with Islamic teachings, being locally based, and having a global perspective.
Regarding ethical values, the Rector elaborated on character-building programs, such as training student in discipline and fostering habits of performing recommended acts of worship, as evident in the requirement for students to reside in the dormitories for several months.
"And I hope that after you graduate from here, the discipline that has been instilled in you remains strong within you if you want to succeed," conveyed the graduate of McGill University, Canada, emphasizing the message.
Therefore, the Rector also encourages everyone to continue spreading goodness, to become useful individuals, actively engaging in actions without waiting and doing nothing.
"Li annafil harakah al-barkah, "For in movement, there is blessing," concluded the doctor from Utrecht University, the Netherlands.
Earlier, the Rector personally moved the tassel of the graduation cap for the 372 graduating participants, accompanied by each dean presenting the certificates. This graduation ceremony also proudly recorded significant achievements, with 51.35% of the graduates receiving the honor of distinction