Preparation for podcast by the Rector of UIN Antasari with guests from Saudi Arabia. Photo Humas/Achmad Magfur
BANJARMASIN – Thursday (21/07/2022) was a busy day for Antasari State Islamic University, when representatives from 3 universities from 3 countries visited. They were Universiti Kebangsaan Malaysia (UKM), Princess of Naradhiwas University (PNU) Thailand, and King Saud University (KSU).
Even a lecturer from Saudi Arabia, Dr. Ali Mayouf al Mayouf, was invited to be a special guest, at the inaugural broadcast of the Rector Prof. Dr. H. Mujiburrahman, MA, in the 3rd floor studio of the rectorat building.
Rector also spoke Arabic, so that the atmosphere could flow more smoothly, with questions about the experience of visiting Indonesia.
"I am very grateful to UIN Antasari. During my 5 visits to Indonesia, all of them were invitations from UIN Antasari," he said through a translator to Public Relation.
Moreover, through this State Islamic Religious University, he had the opportunity to collaborate with the Ministry of Religious Affairs to review 33 Arabic language learning books, from madrasah Ibtidaiyah to Aliyah level.
"I am very happy with learning Arabic in Indonesia, because it is held from elementary school to doctoral level," he said.
While the other guests, 4 from UKM (Prof. Dr. Mohd Nasran Mohamad, Prof. Madya Dr. Shofian bin Ahmad, Dr. M. Razak bin Idris, and Dr. Farid Mat Zain), and Asst. Prof. Dr. Muhammad Umudee from PNU.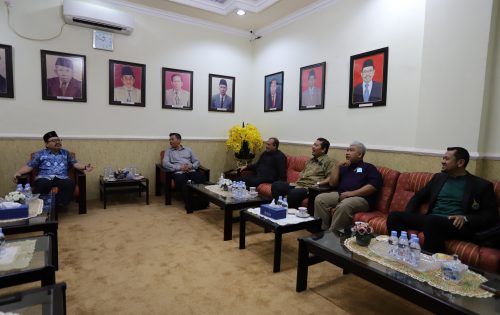 Everyone was invited to see the Banjar Corner room on the ground floor of the library building. The Rector himself directly guided the guests to see the existing manuscripts, reproductions of the original works of previous scholars, including Sheikh Muhammad Arsyad Al-Banjari.
"The existing collection is very good, it brings together several collections related to Banjar clerics, and the same goes for the corner which collects reference collections in Malay," said Dr. Farid Mat Zain, Department of Arabic Studies and Islamic Studies Faculty of Islamic Studies.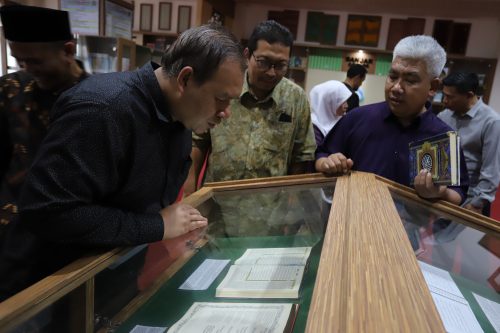 Previously, the envoys from these two neighboring countries held a meeting to strengthen a joint secretariat, called the Asian Muslim Cooperation Secretariat.
Many suggestions were also submitted by the leadership of work units at UIN Antasari, in developing the implementation of the tri dharma of higher education, namely education, research, and community service.
"We have a lot of wills and desires, but we can't make them all come true at once, so something has to be prioritized," said the Rector during a meeting in the Zafry Zamzam Hall.p
For this reason, among those that will be on the agenda are the International Seminar in Thailand, the development of journals in Indonesia to increase their status to International through the assistance of article reviewers from Malaysia, to collecting data on competent lecturers, which are prepared for advanced programs, both research collaborations and teacher exchanges. Lastly, the plan to reactivate real work colleges, or practice field experiences abroad, after being stopped due to the pandemic.
(Fur/Ali/Muf/Yad)