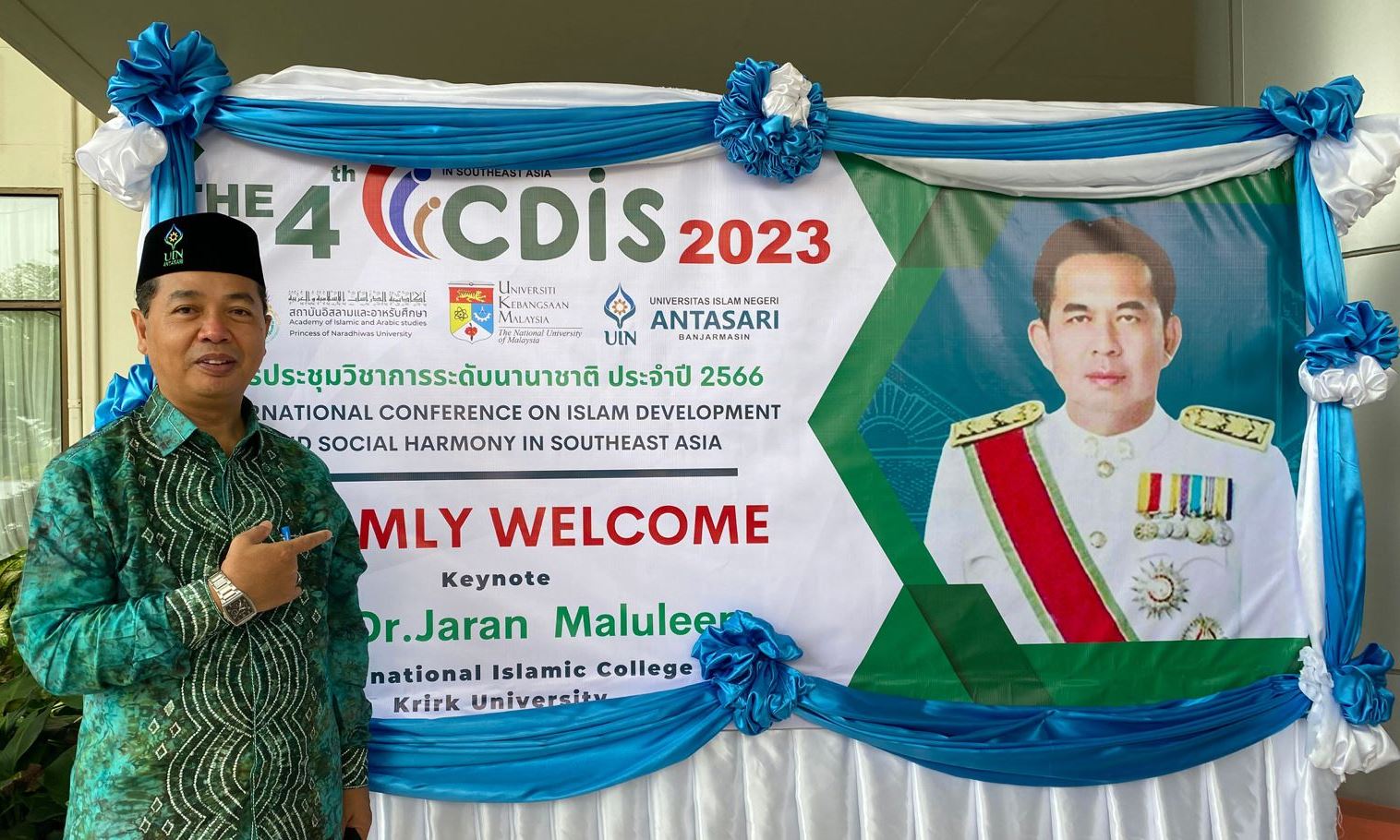 Seven UIN Antasari Leaders Attend the 4th ICDIS in Thailand as Speakers, Reviewers, and Presenters
MUEANG NARATHIWAT – Antasari State Islamic University made a significant contribution to The 4th International Conference on Islam, Development, and Social Harmony in Southeast Asia (ICDIS). This event, organized by the Academy of Islamic and Arabic Studies at Princess of Naradhiwas University (PNU) in Thailand, invited professionals from UIN Antasari to participate as keynote speakers, reviewers, and presenters.
One of the keynote speakers at the event was the Vice Rector of UIN Antasari for General Administration, Planning, and Finance Dr. H. Akhmad Sagir, M.Ag., on Tuesday (25/07/2023)
Many aspects were discussed by this lecturer of Islamic studies and Hadith, related to the roles of scholars and Muslim intellectuals in social development innovation within Southeast Asian communities.
"Hadith scholars in Indonesia have played a role in the validation of hadith codification in the book 'Bidayatus Salikin'," explained the graduate with a Ph.D. in the Department of the Quran and Sunnah from the Faculty of Islamic Studies at the National University of Malaysia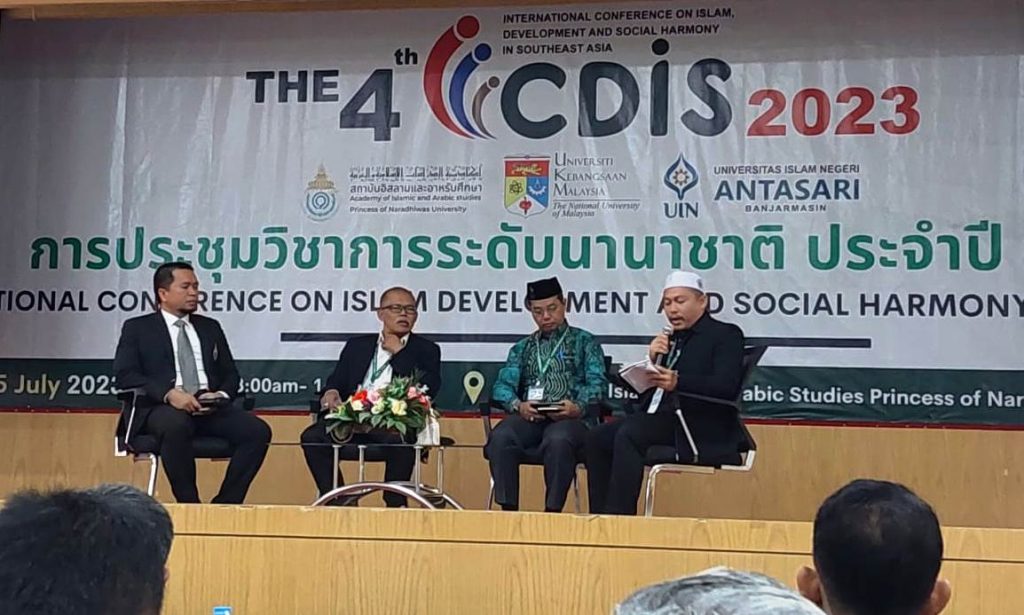 Furthermore, Dr. H. Akhmad Sagir, M.Ag. emphasized that under the leadership of Rector Prof. Dr. H. Mujiburrahman, M.A., UIN Antasari continues to foster the tradition of producing Muslim scholars through specific scholar programs
In addition, they have consistently been promoting Islam through numerous platforms, including the Subuh Lecture Program on Radio Republik Indonesia on a daily basis
In the following series of events, also present in Thailand were Vice Rector of UIN Antasari for Academic and Institutional Affairs, Dr. Hj. Nida Mufidah, M.Pd., and the Head of the Research and Community Service Institute, Dr. Muhammad Zainal Abidin, M.Ag. They each participated as reviewers in parallel sessions
The other presenters were Dr. Hj. Amelia Rahmaniah, M.H., serving as the Dean of the Faculty of Sharia, along with Dr. H. Hamdan, M.Pd., who is the Dean of the Faculty of Tarbiyah and Teacher Training. Additionally, Dr. Siti Muflichah, M.Ag., M.Ed., holds the position of Coordinator at the Publishing Center for Journals, and Intellectual Property Right. Also, Nani Hizriani, S.Pd., M.A., who is the Coordinator of Cooperation and International Affairs. The presentation also were accompanied by Yenni Sanruri and Kesya Fitriah Azizah, two students from UIN Antasari Banjarmasin.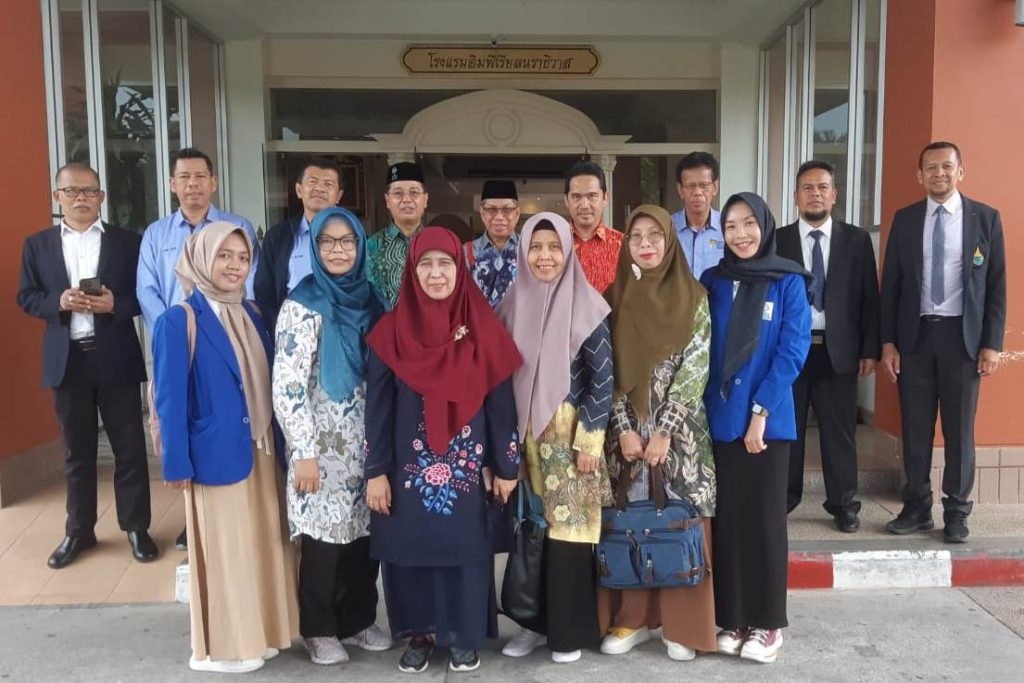 Meanwhile, several additional lecturers from UIN Antasari acted as presenters, participating virtually.  Many other lecturers from various other universities in Southeast Asia also took part in this meeting.
This activity is a follow-up to the Rector's direct visit to PNU Thailand, at the end of 2022, with the goal of strengthening partnership in education, research, and community service.