From left to right: Vice Rector of UINSI Samarinda for Student Affairs and Cooperation, Dr. HM Abzar Duraiesa, M.Ag., WR UIN Antasari Bid. KK Dr. Irfan Noor, M. Hum, Rector of UIN Antasari Prof. Dr. H. Mujiburrahman, MA, Rector of IAIN Palangkaraya Dr. H. Khairil Anwar, M.Ag., WR IAIN Pontianak Bid. KK Dr. Abdul Mukti Ro'uf, MA, and WR IAIN Palangkaraya Bid. KK Dr. Sadiani, MH symbolically opened the 6th BUAF together (Photo:Humas/Yulida Rifani)
BANJARMASIN – Around 79 students from various parts of Kalimantan came to Campus 1 of Antasari State Islamic University. Many have traveled thousands of kilometers overland, some even arrived in South Kalimantan in 2 days.
They are the participants of the 6th Borneo Undergraduate Academic Forum (BUAF), from 4 State Islamic Religious Universities. Namely UIN Sultan Aji Muhammad Idris (UINSI) Samarinda (East Kalimantan), IAIN Palangkaraya (Central Kalimantan), IAIN Pontianak (West Kalimantan), and the host of UIN Antasari Banjarmasin.
The Rector of UIN Antasari Prof. Dr. H. Mujiburrahman, MA, admitted that he was touched by the arrival of the students of knowledge, who were willing to come all the way to participate in scientific activities.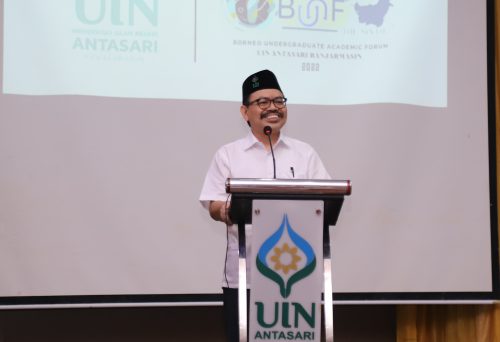 Yes, not only around Kalimantan, there was one participant who deliberately came from Central Java. She is Kiranda Okti Eka Putri, 7th Semester Islamic Banking Student at UIN Raden Mas Said.
She was also proud to be present at this meeting, which presented papers related to Islamic economics and business in facing the challenges of the pandemic.
"The feeling is really extraordinary, I can be the furthest participant too, the others are in Kalimantan Island, I am from outside Kalimantan myself," said Kiranda when interviewed by Public Relations on the sidelines of the event.
Kiranda also dared to come here to gain experience in the field of writing, let alone meet many fellow goals, to gain knowledge from experienced presenters.
Yes, because some of the invited speakers come from abroad, including domestic lecturers who have international capacities.
They are Dr. Norshahril Saat, Ph.D. (Yusof Ishak Institute Singapore), Dr. Aiza Maslan (Universiti Sains Malaysia), Prof. Dr. Masdar Hilmy, MA (UIN Sunan Ampel Surabaya), and from UIN Antasari there is Ahmad Muhajir, Ph.D. and M. Iqbal, Ph.D.
Furthermore, for 2 days, a conference was held on the presentation of 79 papers selected by 102 submitted works. The details are 22 from IAIN Pontianak, 14 from IAIN Palangkaraya, 25 from UIN Antasari, and 17 from UIN Sultan Aji Muhammad Idris.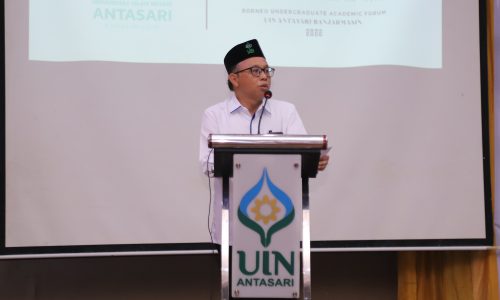 As is known, BUAF was born from the idea of ​​PTKIN officials in Kalimantan, one of whom is Prof. Dr. H. Mujiburrahman, MA, who at that time served as Deputy Rector of IAIN Antasari.
Then, BUAF has been held in rotation at 4 PTKIN since 2016, and again after being affected by the pandemic in 2020, which in 2022 takes the theme "Religion and Resilience: Covid-19 Crisis and the Future".