New students are enthusiastic about participating in PBAK 2022 (Photo:Humas/Yulida Rifani)
BANJARMASIN – Two years affected by the pandemic, finally Antasari State Islamic University held a face-to-face introduction to the Campus Academic Culture (PBAK) agenda for new students in 2022.
The activity was official opened by the Rector Prof. Dr. H. Mujiburrahman MA, in the courtyard of the Learning Resource Center Building, Wednesday (17/08), by beating the gong.
A total of 1,812 participants took part in this program. However, because they still prioritize health protocols, everything is divided into 3 parts, which take place on 18-19, 25-26, and 29-30 August, with 2 separate locations, namely the Auditorium and the Sports Building.
The Rector also advised that everything can be taken seriously, moreover there is a lot of important information that is ready to be conveyed regarding programs that support lectures, so that later students can be used properly to become superior and moral people.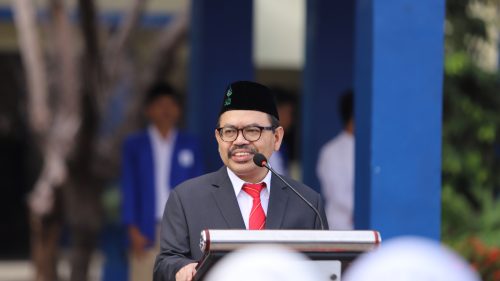 Among the services provided provided is an electronic academic system, such as related to lecture registration, checking grades, to study schedules. There are also library services, a consulting room for entrepreneurship and career development. There are Dormitory activities, strengthening Arabic and English, various student organizations that can be followed to develop interests and talents. After the university level, PBAK is immediately continued at the respective faculty level for two days per wave, which will prepare for the opening of lectures in early September.