BANJARMASIN – Ust. Khalid Basalamah has become one of the favorite figures of Muslim netizens from Indonesia, even for those who live in various countries, to become a reference in religious life.
At least this is based on the research of the Indonesian International Islamic University (UIII) Lecturer Faried Fakhruddin Saenong, Ph.D., which he explained at the Antasari State Islamic University International Seminar, at the G'Sign Hotel Banjarmasin, Tuesday (26/07/2022).
The research was carried out by this doctoral graduate of the Australian National University for several years, starting from direct interviews with the person concerned, including meeting many loyal listeners of Ust's lectures. Khalid Basalamah in a number of countries.
"The first time I came to New Zealand, lived in Wellington, met the Muslim community there, very much quoted Ust. Khalid Basalamah," explained Faried.
So with this phenomenon, he raised the figure of the cleric as research material, related to mass communication in the digital era.
Because with the information technology team owned, Ust. Khalid Basalamah had become the top figure on the Google search website.
"I tried to do it over and over again, at different times, especially in 2016, on different computers (because each computer will have artificial intelligence), Ust. Khalid Basalamah is always in the first position when I type the word 'ustaz', "explained the graduate from the University of Manchester, England.
How it works Khalid Basalamah broadcast this Islam, in line with the wishes of the Rector of UIN Antasari Prof. Dr. H. Mujiburrahman, MA, who wants academics to play an active role in utilizing existing digital media, in order to spread positive content in the midst of the information tsunami era, so that it can be of great benefit to the community.
"We have to make videos, photos, articles, and so on to be posted and published on the internet through social media. It is useless if we only complain about negative content without doing anything, "said the graduate from Utrecht University in the Netherlands in English.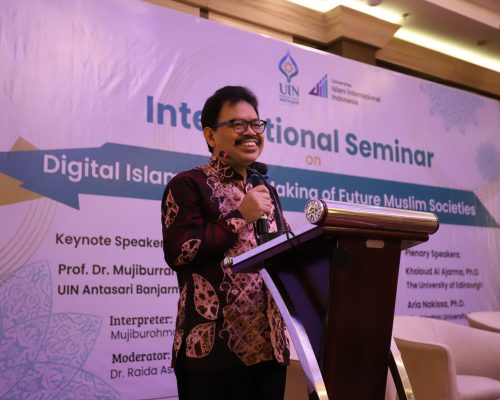 Speakers This meeting were from The University of Edinburgh Scotland (Kholoud Al Ajarma, Ph.D.) and from Washington University in St. Louis United States (Aria Nakissa, Ph.D.)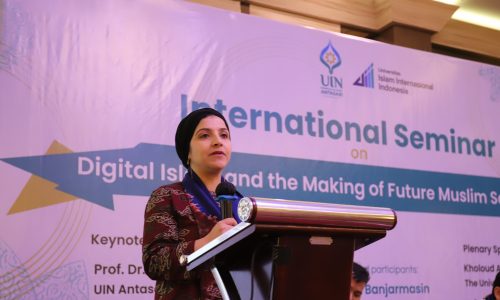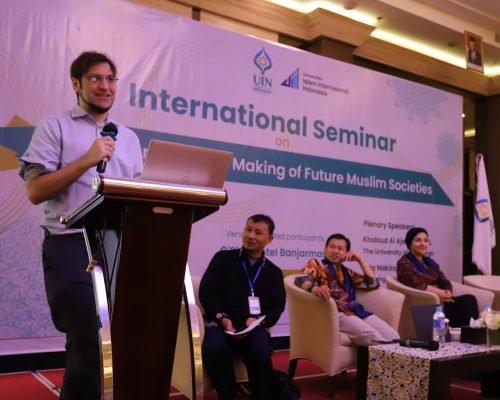 There were around 200 participants who were invited to join this event, with the theme "Digital Islam and the Formation of Future Muslim Society", which was held in collaboration with UIII.
(Muf)