UIN Antasari Banjarmasin in collaboration with Universiti Kebangsaan Malaysia (UKM) and Princess of Naradhiwas University (PNU) Thailand held The 3rd  International Conference on Islam, Development and Social Harmony in Southeast Asia 2021 (ICDIS 2021) on 7-8 October 2021.
The conference was held online through Zoom Meetings and broadcast live through the channel Youtube UIN Antasari Banjarmasin. ICDIS presented 62 combined speakers from 3 regional countries, Malaysia, Indonesia and Thailand.
The Rector of UIN Antasari, Mujiburrahman in his speech expressed his joy over the implementation of The3rd ICDIS activity after 2 years of preparation, even though the activities could only be carried out virtually. The3rd ICDIS this time carries the theme "Islam and Southeast Asian Communities Welfare in the COVID-19 years". Related to this theme, Mujiburrahman said that there are at least 5 things that are very influential in people's lives regarding the issue of COVID-19, especially in the academic world and the Islamic science studies.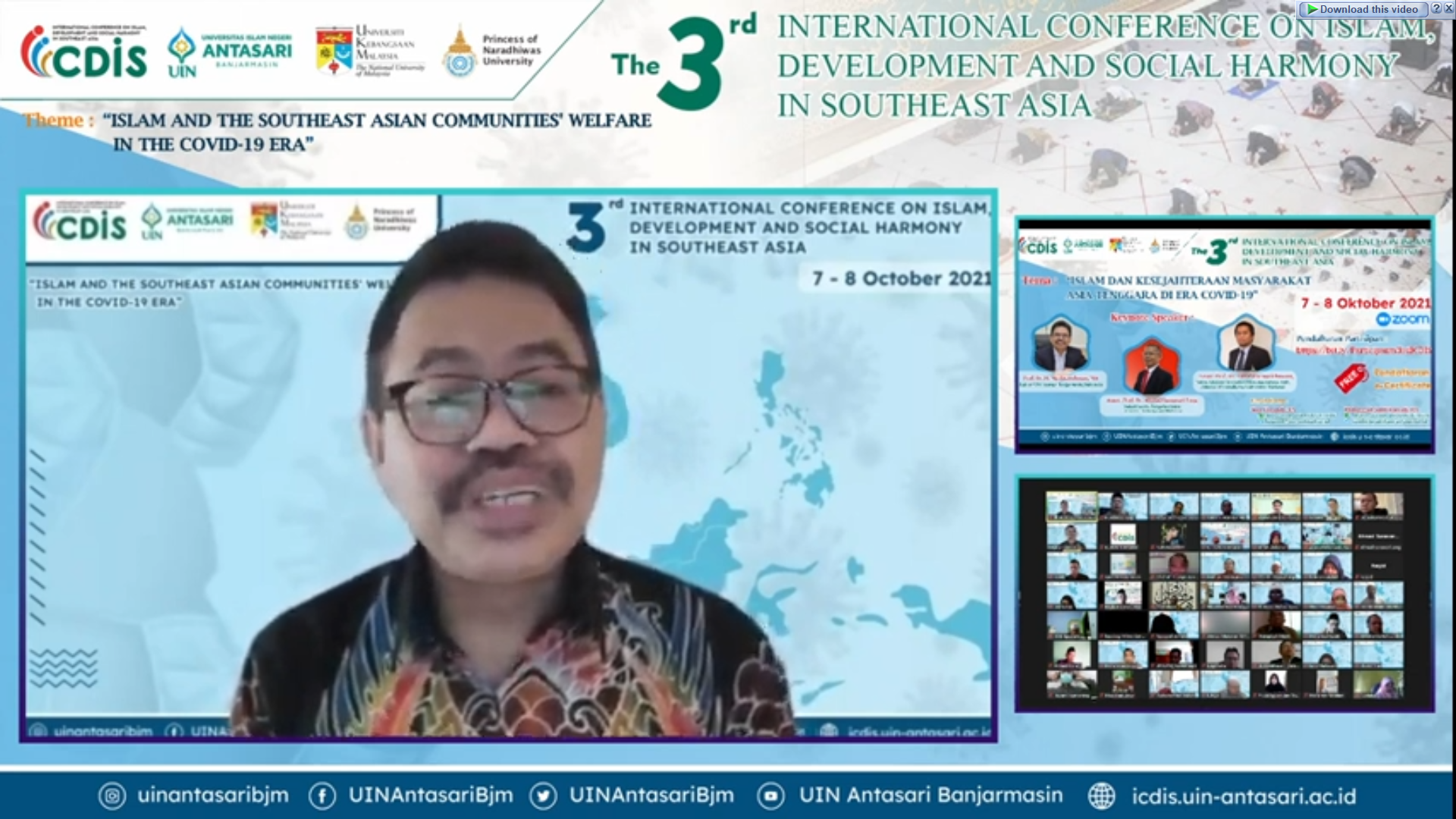 First, the discussion about what the COVID-19 pandemic means, starting from the discussion that COVID-19 is a punishment from God to the discussion that COVID-19 is not just a punishment but also a test or trial.
Second, the discussion of the relationship between religion and science (in the health sciences), the occurrence of conflicts between religion and science creates a passion for discussing religious reasoning and scientific reasoning.
Third, the discussion about Religion, both personal and communal.
Fourth, discussion of related fatwas regarding the pandemic. It ranges from fatwas regarding halal and haram vaccines to virtual congregational prayers.
Fifth, the COVID-19 pandemic has made people use cellphones more, especially on using social media. It does not escape discussion about religion, religious figures and religious fatwas also appear on social media which are more or less contradictory to each other. Social media also gives rise to the fragmentation of religious authority.
Regarding these five topics, Mujiburrahman believes that in the Southeast Asia region, especially in countries of Malaysia, Indonesia and Southern Thailand can deal with these issues.
"I believe we have local, archipelago-based Islamic cultural treasures that we may be able to explore and continue to develop so that we can still face the various challenges we are experiencing during this COVID-19 period," he concluded.
Previously, the Rector gave his appreciation to Prof. Dr. Wan Kamal Mujani (Pro Naib Chancellor, UKM) and Assoc. Prof. Cheloh Khaegphong (Assistant to the President of PNU, Thailand) who are pleased to deliver Honorary Speech at the 3rd ICDIS this time.

Meanwhile, the Vice Rector for Academic and Institutional Affairs, Dr. H. Hamdan, M.Pd., said that this activity brought UIN Antasari indirectly to Go International. "It also provides opportunities for our lecturers and students how to speak on the international stage," he said.
The conference will continue, considering that UIN Antasari Banjarmasin is a member of the ICDIS organization said Dr. H. Hamdan. "This activity is held every two years, the next event may be held in Thailand," he said.